HEAR WHAT THE EXPERTS ARE SAYING ABOUT FACE SHIELDS AND YOUR HEALTH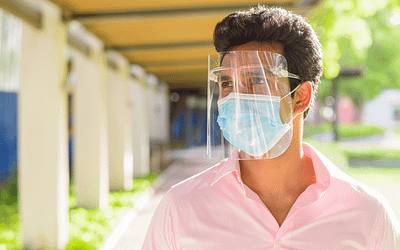 WEDNESDAY, June 17, 2020 — I would instead ask the question: what practices best enable us to live with this virus, which will likely be with us for years, without giving up too much of what we value in society and in our communities?
When put to this test, I think face shields are clearly superior to face masks for a number of reasons:
[1.] Interpersonal communication and empathy
[2.] Compliance
[3.] Psychological benefits
read more
THURSDAY, April 30, 2020 — Hundreds of millions of Americans heeded recent government advice and rushed to wear cloth face masks, hoping they might prevent transmission of the new coronavirus.
But there's another option: The clear plastic face shield, already in use by many health care personnel.
Now, a team of experts say face shields might replace masks as a more comfortable and more effective deterrent to COVID-19.
"Face shields, which can be quickly and affordably produced and distributed, should be included as part of strategies to safely and significantly reduce transmission in the community setting," said a trio of physicians from the University of Iowa.
read more
CHECK OUT OUR ONLINE FACE SHIELD SHOP
FUN, STYLISH AND HILARIOUS DESIGNS –
CUSTOMIZABLE FOR GROUP ORDERS